The Super Bowl LII champ is …? NFL Insiders predict the playoffs
Before the NFL playoffs began, we asked 11 of our ESPN NFL Insiders — one for each playoff game — to fill out a bracket predicting how each matchup would turn out, from wild-card weekend through Super Bowl LII.
Well, after a wild-card weekend with two upsets, the bracket was upended, so we asked those same 11 ESPN NFL Insiders to pick each matchup again heading into the divisional round. We ended up with a new Super Bowl prediction.
Teams had to receive a majority of our Insiders' votes to move on to the next round. Here's how the bracket ended up, with the cases for chalk — and upsets — from our group of experts:
Divisional round | Conference championships | Super Bowl LII
DIVISIONAL ROUND
Prediction: Patriots (11 votes) over Titans
The case for chalk: Let's not overthink this. The Titans were outscored in the regular season; the Patriots finished with a point differential of plus-162, tied for best in the NFL. Tennessee's defense is solid, especially against the run, but it will have trouble stopping a passing attack that averaged 276.1 yards per game this season. — Mina Kimes, senior writer
The case for a Titans upset: Two things need to happen for Tennessee to pull off a Foxborough Miracle: Tom Brady needs to turn the ball over (in the Patriots' final five games, he threw five picks), and Titans running back Derrick Henry must repeat his wild-card performance. Luckily for Henry, the Patriots have struggled to stop the run, allowing 4.71 yards per rush, the second-worst rate in the NFL. — Kimes
---

Prediction: Steelers (11 votes) over Jaguars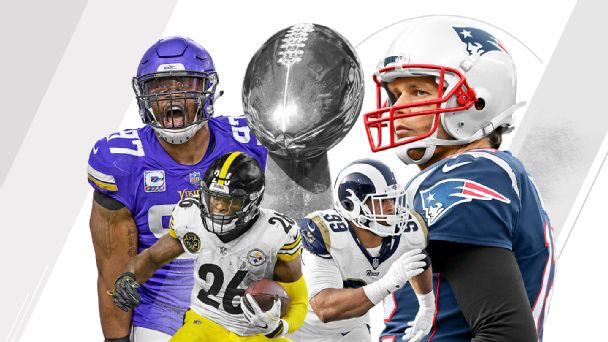 From the wild-card round through Super Bowl LII in Minneapolis, ESPN.com has the playoffs covered.
• Schedule, coverage, more »
• Resetting NFL playoff bracket »
• Barnwell: Ranking clearest paths to Super Bowl »
The case for chalk: The Steelers are the hottest team in the league. They've won 10 of their past 11 games, and the only loss in that stretch required one of the most controversial replay reviews of the season to break against them. Since the Jaguars beat the Steelers 30-9 in Pittsburgh in Week 5, the Steelers have averaged 27.9 points per game — more than all but four teams in the league. The only opponent that has ever won two games in Pittsburgh in the same season is the Jaguars, but that was 10 years ago. And this year's regular-season victory was three months ago, at a time when the Steelers weren't clicking the way they are now. Rested and relatively healthy, Pittsburgh's offense will be tough for Blake Bortles & Co. to match. — Dan Graziano, national NFL writer
The case for a Jaguars upset: Having won at Heinz Field in Week 5, the Jags won't be scared. And while they probably can't expect to intercept Ben Roethlisberger five times and run two of them back for touchdowns again, Jacksonville has been able to limit almost every quarterback this season. It allowed a league-low average of 169.9 passing yards per game and held opposing quarterbacks to a league-low 40.1 Total QBR. There's no team this side of Minneapolis with a better chance of making a game low scoring and ugly enough to steal it from Pittsburgh, even if Antonio Brown is back. — Graziano
---
Prediction: Falcons (9 votes) over Eagles
The case for chalk: This game marks the first in NFL history in which a No. 1 seed is the underdog in the divisional round. The reason? Nick Foles, who has completed only 55 percent of his throws and is averaging an ugly 5.0 yards per pass attempt since Carson Wentz went down with a torn ACL in Week 14. The Falcons, meanwhile, are a better team than their 10-6 record suggests. The defending NFC champions rank in the top 10 in both offensive yardage and defensive yardage allowed. Four of their six losses were by six or fewer points. The balanced Falcons will advance to the NFC title game. — Mike Clay, NFL writer
The case for an Eagles upset: Injuries to Jason Peters, Jordan Hicks, Darren Sproles and Wentz have taken their toll, but the Eagles' roster is still loaded with talent. A terrific front seven led by Fletcher Cox has held opposing teams to a league-low 79.2 rushing yards per game, and the secondary play has been better with Ronald Darby back. If the defense can stymie an Atlanta offense that has struggled to score touchdowns as of late (eight during its past six games) and Foles can get the ball into the hands of playmakers Alshon Jeffery, Zach Ertz, Nelson Agholor and Jay Ajayi, the Eagles certainly could win. — Clay
---
Prediction: Vikings (7 votes) over Saints
The case for chalk: These teams met in Week 1 this season, but relying on what we saw then is largely a fool's errand. In some ways, however, that Vikings' win encapsulates what I believe will be their winning formula on Sunday: neutralizing the Saints' running game, which was contained to zero rushing attempts of 10 or more yards; extending drives; and slowing the Saints' red zone offense. Minnesota was the NFL's third-best red zone defense this season in terms of touchdown percentage allowed. The Vikings' balanced roster and dominant defense will catapult them to the NFC Championship Game. — Field Yates, NFL Insider
The case for a Saints upset: The Minnesota offensive line surge was a catalyst for the team early in the season, though injuries — including placing guard Nick Easton on injured reserve — impacted the group down the stretch. The Saints' offense has long generated the most headlines in New Orleans, but it's well-established that New Orleans' pass rush is now a dominant force. Disrupting Case Keenum and stressing the Vikings' second-level pass rush through an ability to incorporate the running backs in the passing game can catapult New Orleans to victory. — Yates
CONFERENCE CHAMPIONSHIPS

Prediction: Patriots (9 votes) over Steelers
1 Related
The case for chalk: The Patriots will look to take away Antonio Brown with double coverage. We know it's coming. And New England also can mix its run fronts to limit Le'Veon Bell. Plus, after Rob Gronkowski tore up the Steelers' secondary for 168 yards on nine receptions in Week 15, the Patriots and quarterback Tom Brady can lean on the tight end's matchup ability and man-coverage beaters (picks/crossers) to target the middle of the field. The basic idea here is to erase the Steelers' top weapon and move the ball with tempo and execution on offense to advance to the Super Bowl. — Matt Bowen, NFL writer
The case for a Steelers upset: Challenging the Patriots' wide receivers at the line of scrimmage is a must. Pittsburgh has to disrupt the timing of the short-to-intermediate route tree, while bringing interior pressure to move Brady off the spot in the pocket. That's the blueprint to slowing down New England's passing game, while stealing some extra possessions. On offense, it's on Steelers wideout JuJu Smith-Schuster if the Pats have a safety hovering over the top of Brown all day. In Week 15, Smith-Schuster caught six balls for 114 yards; he can be that explosive-play target for Ben Roethlisberger, with Bell seeing a big workload (25 to 30 touches) to close out the upset win in the fourth quarter. — Bowen
---
Prediction: Vikings (7 votes) over Falcons
The case for chalk: The Vikings can out-Falcon the Falcons. In the teams' Week 13 matchup, the Vikings possessed the ball for 34:02 — via 27 designed runs and a modest average of 5.3 air yards per throw. And in All-Pro cornerback Xavier Rhodes, the Vikings demonstrated an effective tool to defend receiver Julio Jones (two catches, 24 yards). In short, they have an answer for all of the Falcons' challenges. — Kevin Seifert, national NFL writer
The case for a Falcons upset: The Vikings' long (if unrelated) history of unlikely postseason endings, most recently Blair Walsh's missed 27-yard field goal in 2015, is a helpful reminder of the potential for haywire outcomes. If the Falcons can get Jones open for a big play or two, they could bridge what appeared to be a small gap between the teams in Week 13. — Seifert
SUPER BOWL LII
Prediction: Patriots (6 votes) over Vikings
The case for chalk: The Patriots' coach-quarterback combination and opponent-specific game plans are the best ever, especially in big moments. New England's use of Rob Gronkowski and a dynamic rotation of running backs will give Tom Brady the coverage tells he needs to beat a defense that lines up the same a fair amount. — Mike Sando, senior NFL writer
The case for a Vikings upset: Getting after Brady usually requires disrupting him with pressure up the middle. The Vikings are well-equipped to do this with Mike Zimmer's trademark A-gap blitzes. They'll also be playing in their home stadium and could have the crowd on their side. Minnesota also has a chance to be the more balanced team in terms of offense and defense, whereas New England has struggled on defense at times. — Sando